Our Art Venture Starter Package Includes:
3 classes of your choosing
3 full sized class kits
Swag bag of Prima goodies ($100 retail value)
Entry in our amazing giveaways
10  hours of Vitamin Cs - Craft. Creativity & Community via our live stream classes.
Beautiful postcard confirmation of  your order mailed before Christmas. Perfect if you're gifting these classes!
Learn About Each Class, & Meet Our Fabulous Teachers!
"Rusty Alarm Clock" - Altered Metal Frame with Anna Dabrowska
[pbe_section global_module="1142″]
"Midnight Stories"- Altered Book Cover with Anna Dabrowska
[pbe_section global_module="1133″]
Watercolor Florals with Alisa Burke
[pbe_section global_module="1061″]
Broken Angel Mixed Media Canvas With Jaya Raghuvanshi
Broken Angel Mixed Media Canvas With Jaya Raghuvanshi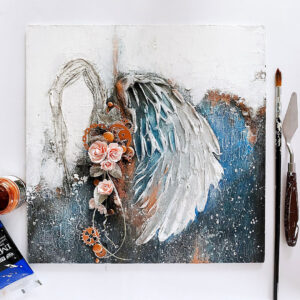 'She made broken look beautiful and strong look invincible .
She walked with the universe on her shoulders and made it look like a pair of wings.'
These words were my inspiration when I started off with my 'Broken Angel' mixed media canvas.. I knew what I wanted to express .. the girl that looks so strong but feels so weak, the girl that picks herself up every time she falls. 
In this class I will show you how to get inspiration from around you. How to break a blank canvas and how to stretch your supplies to the maximum. We will learn all about creating amazing textures using basic and humble products. Nothing fancy! You will not only learn about color palettes and combinations but also the 'why' behind them. You learn about using basic mixed media tools to make amazing art. After learning the techniques I teach you in this class you will be confident enough to try them out yourself to create beautiful projects. 
I believe that each color has an emotion , every texture tells a story and every stroke has a purpose. And that mixed media is all about exploring , making mistakes and learning from them.  I want you to experience all this and more through my class.
 Live Class Schedule: February 27, 2021 @ 9:00 A.M. – 1:30 P.M. (PST)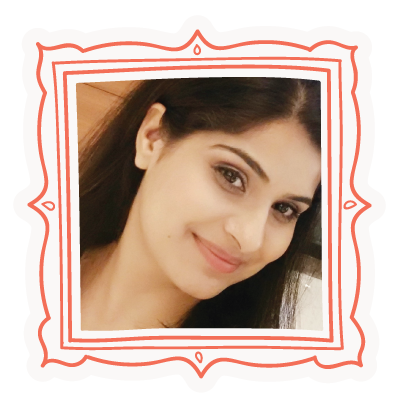 Jaya Raghuvanshi
Hi ! I am Jaya Rahuvanshi , a self-taught mixed media artist. I love playing with colors, textures and mediums and exploring new techniques and ideas!
My inspiration comes from the beauty in nature and my love for poetry. I have taken numerous in-person and online workshops where I have shared my knowledge with my students in an easy and comprehensible manner. I want people to discover their inner talent and that no matter what your skills are, mixed media is for everyone to enjoy!
Album Cover Asian Inspired Tiles With Katja MezzaNotte
Album Cover Asian Inspired Tiles With Katja MezzaNotte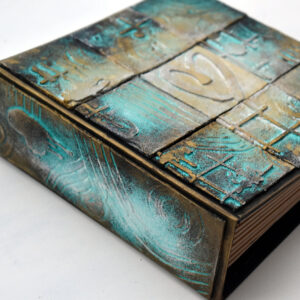 Discover artistic freedom and new possibilities in your creativity as you add your own personalized texture on "tiles" to alter an album cover. Using chipboard, paints, and metallic wax for added shine, you will give your album a Far East feel with your own unique pattern. Learn the creative possibilities of modeling paste and lots of techniques for many applications. Together we will find the unexpected possibilities of your creative process.
Class Schedule: February 28, 2021 @ 9:00 A.M. – 12:30 P.M.
(Pacific Time)
Katja MezzaNotte
Hello! I am Katja from Sweden. I am a mixed media artist and I enjoy working with several different designs from clean and simple to steampunk style that incorporates many different layers. I love the freedom to do what I enjoy. To start with a blank canvas or page and fully explore my creative process. I hope that I can be an inspiration to others to find their creative side while learning to appreciate the process, not getting discouraged, and exploring their dreams of artistic expression by having their own voice within their designs.
The Painted Purse With Chelsea Evans
[pbe_section global_module="1148″]
Capri Suitcase Mini Album With Frank Garcia
[pbe_section global_module="1166″]
Dreamy Watercolor Portraits With Danita Art
[pbe_section global_module="1161″]
Mechanicals –FUNky Junque necklaces With Jen Cushman
Mechanicals –FUNky Junque necklaces With Jen Cushman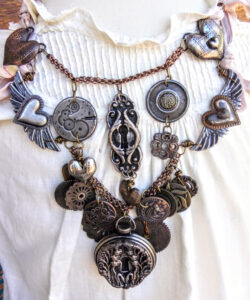 Look like you're leisurely strolling about Paris flea markets in search of cool found objects for your mixed-media jewelry projects BUT, in reality, you know you're staying home during the pandemic and making some really FUN wearable art that looks like it could have come from the trendiest of Les Puces Marche! In this workshop we will turn Finnabair's Mechanicals into cool metal charms to create lovely layered necklaces. The generous kit will allow you to create not one, but two necklaces in junque drawer style.
We'll also be using the Frank Garcia's Luxembourg hardware along with Prima Modeling Material to make beautiful vintage hardware castings from lightweight air dry clay. These statement necklaces look like they weigh a ton, but they're really light and easy to wear thanks to the art material. Instruction includes how to paint and faux finish the castings to mimic real metal hardware. We will talk about how to properly design statement jewelry and how to do the jump ring attachments properly so the necklaces lay well and fit comfortably.  Basic wireworking will be taught as well. 
Note: Some prep work to the charms is necessary before class day in order to show up prepared and ready to create. This mostly includes punching holes into the metal charms beforehand, but more easy and detailed instructions on how to do this will be emailed to students before class.
Live Class Schedule: February 7, 2021 @ 1:30 P.M. – 5:00 P.M. 
(Pacific Time)
Jen Cushman
Jen Cushman is a natural storyteller who's drawn to the imperfect, the quirky, the artsy and the authentic. She's been creating mixed-media art for 20 years and has authored two jewelry-making books, filmed six instructional DVDs with F+W Media, has appeared as a guest artist on DIY and morning television shows and her work has been widely published in national art and jewelry magazines. In 2019 when the Covid19 pandemic hit, she followed her heart and created a brand new business called Soul Stir Magic, where she's an energy healer, intuitive guide and facilitator to help women listen to and take action on their deepest desires and soul whispers. Jen's passion is helping other creatives explore their inner knowing which, in turn, empowers them to live a juicy life with intention and authenticity.
Learn more at jencushman.com and soulstirmagic.com
Boho Victorian Floral Mirror With Mark Montano
[pbe_section global_module="1155″]
Create Your Life Apron with Melody Ross
[pbe_section global_module="1171″]
Classic CeCe Techniques With CeCe Hunt
[pbe_section global_module="1105″]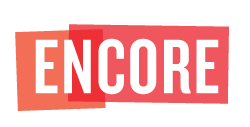 Art Venture Starter Package –
3 Classes
Become an Art Venture VIP
Purchase all 12 classes at an even greater discounted price & score free shipping on everything, PLUS for a limited time, we will upgrade your swag bag!
Wooo, all the things!