Gather by Charity Wings is pleased to announce the next

Learn from some of the industries best in the genres of Watercolor, Home Decor and Mixed Media. 
Build your package:
Sign ups are open and the classes are inspiring!
Learn about each class
& Meet Our Fabulous Teachers!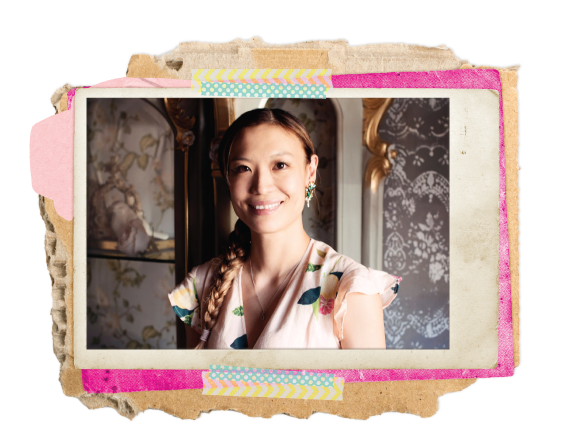 Crystin Min
I am a stay-at-home mom to a beautiful girl and baby boy. You may see her photobomb some of my pics. I also have two unruly dogs and a husband who helps me pick up furniture pieces at all hours of the day and transports my pieces to their new homes. I work in my studio to create innovative designs and unconventional styles. I have a special fondness for antique furniture. I love to modernize it a bit with creative products to give it a fresh new look so that it lives another life and story instead of being neglected or hauled to the dump. I also love upcycling old objects and making them beautiful again.
I am a professional furniture artist propelled by the urge to create furniture for creative expression and practical use. Furniture and decor are what make our homes inhabited while reflecting our personal aesthetic. It can create an atmosphere of warmth and comfort or dynamism. I want to create original pieces that only you own and aren't mass-produced so that you can make your home truly unique. I believe in creating imaginative furniture that reflects passion, emotion, and feeling. Each piece is evocative and has its own unique
story.
Junk To Punk With Crystin Min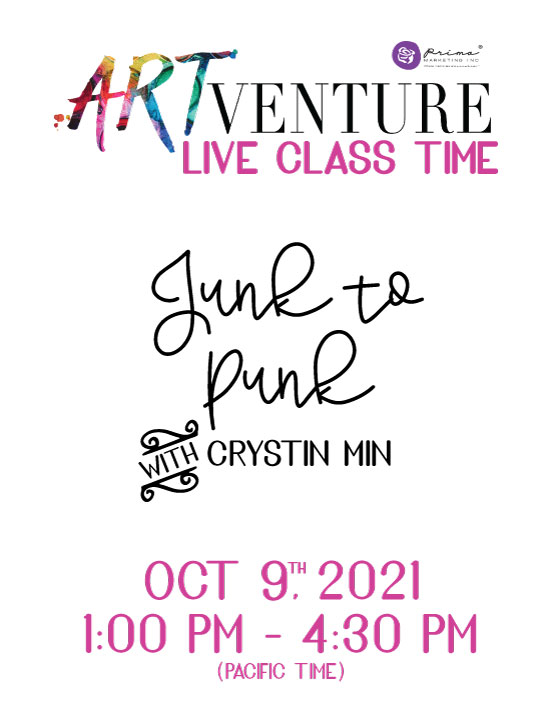 How to take something from junk to punk. Learn how to create a steampunk design on furniture or decor. I'll be using a jewelry armoire. Preferably a small piece of furniture or large decor item should be used. We'll be using moulds, texture pastes, rice paper, and all kinds of fun products to transform a boring piece into an artistic masterpiece. Get ready for some steampunk glam.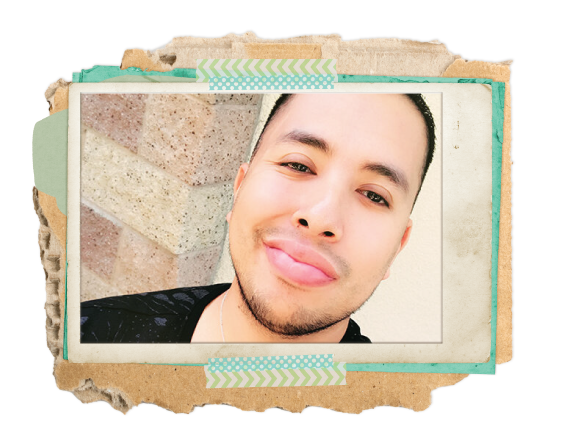 Frank Garcia
Frank Garcia is a mixed media artist, scrapbooker & mini album lover. Frank has been in the scrapbooking industry for over 8 years. He is passionate about sharing his knowledge in scrapbooking, mixed media, altered art and journaling as well as artful mini album creations. Frank currently is a Senior Prima Educator and product designer for Prima Marketing Inc. He has designed multiple best-selling paper collections and designs under the Frank Garcia and Memory Hardware brands. Recently, Frank released his first planner, featuring functional, modern and stylish touches for everyday goal, life and event planning. He enjoys educating students on different scrapbooking techniques and classes ranging from artful mini albums to mixed media projects. Frank is well known for his dimensional projects that are "off the page" and innovative. Frank is also one of the instructors on Live With Prima and the editor of Prima Marketing's product catalog.
Vintage Sewing Altered Clock With Frank Garcia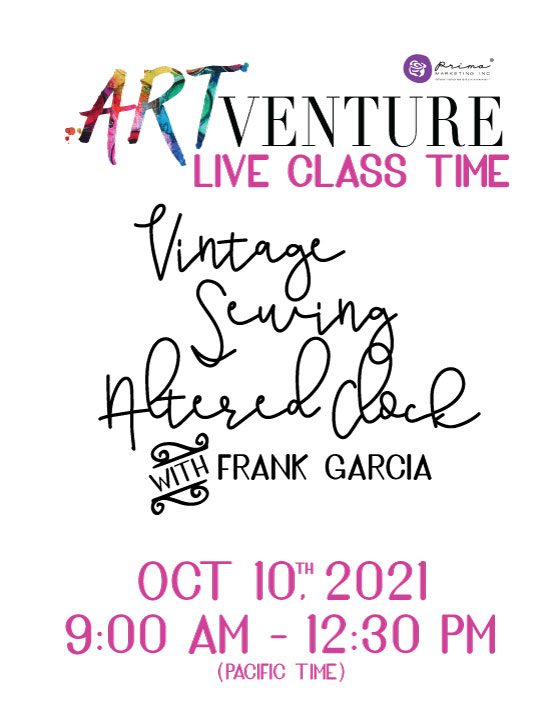 Create a beautiful one of a kind sewing inspired light-up clock using the gorgeous My Sweet Collection designed by Frank Garcia. This beautiful clock features a shaker inside with buttons, pearls and gorgeous accoutrements that light up! Learn how to incorporate crackle paste, Artisan Powders and other mediums into your projects to create vintage and worn textures. Adorn your clock with unique elements that will be a keepsake for years to come.
In order to provide this beautifully embellished project for this event, there will be some items the students will be sourcing themselves. Most creatives will have these items in their stash. We have put together an add-on kit of embellishments if you would like to have the exact same items that Frank will be using. The add-on kit is $22 and will be available when you register for this class.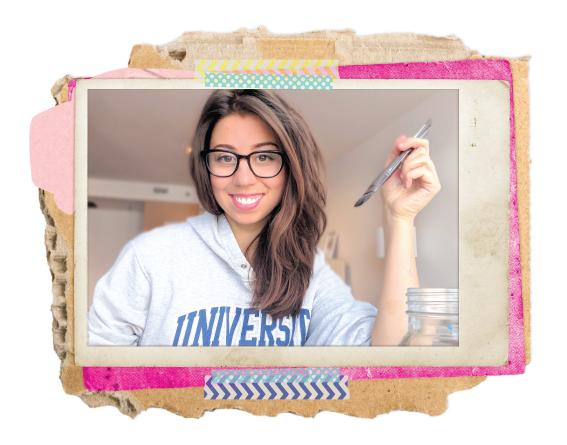 Bianca Rosen
Bianca is a professional artist based in Montreal, Canada with a degree in Industrial Design. She has been painting since she was a child and has over 15 years of experience in acrylic painting. She currently enjoys working with a variety of mediums, focusing on watercolors, and loves creating unique products with her art. Bianca especially enjoys working with bright colors to create lively artwork inspired by the beautiful natural world.
Bianca, @artbybianca, has always been inspired by the endless variety of form and colour in nature. Her interpretations can be light and transparent or bold and dramatic. Using a mix of watercolours, inks and acrylic paints, Bianca is known for her free-flowing watercolor artwork.
Recently during covid she has spent much of her time teaching online zoom classes and has been loving it! You can find more info on her website.
Whimsical Feathers with Bianca Rosen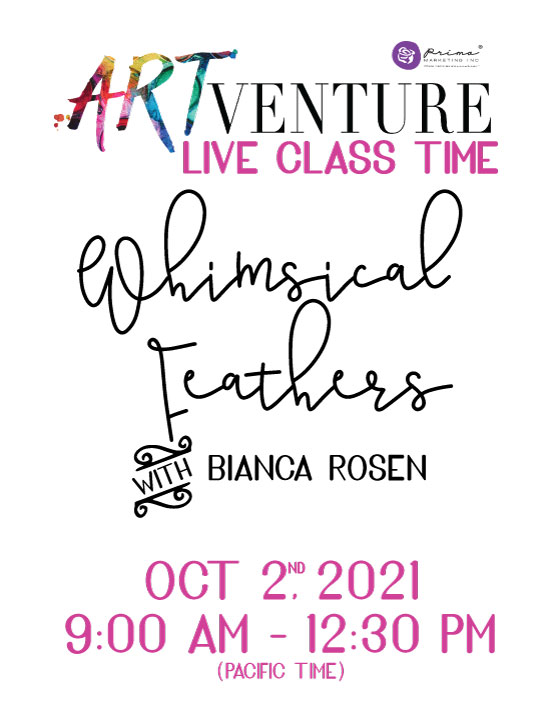 Want to learn how to paint some beautiful watercolor feathers? Join me in this one time class and learn my unique techniques for painting these beauties! Not only will you leave the class with a bunch of new knowledge and skills, but you'll also have a lovely painting you can frame and put up in your home! I can't wait to share!!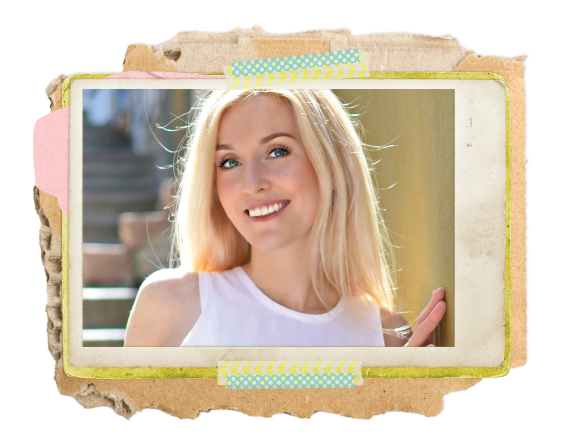 Nadya Drozdova
My Name is Nadya Drozdova and I am a mixed media and scrapbooking lover from Estonia. I have been doing my hobby for 5 and a half years. For the last four of them I have been creating and teaching workshops and classes. I would call my own style tender and romantic, but sometimes I am happy to create something grungy or steampunk. I like to play with paints and mediums and to make beautiful compositions on my projects using embellishments and Prima flowers. The most interesting thing for me is to share my skills and knowledge with others. This is why I do my classes and YouTube videos with all my love and passion.
The Secret Garden With Nadya Drozdova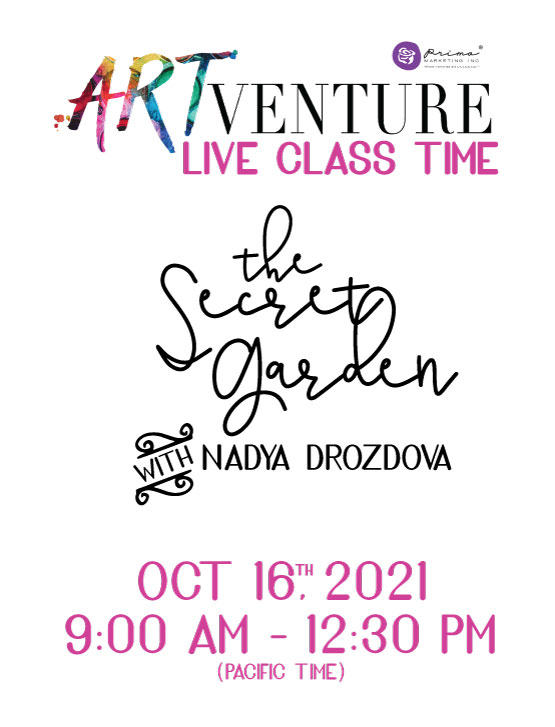 My mixed media experience has shown me that very often it is most difficult for people to create projects with white background and not have it go into "dirt". I would love to invite you to my online class where together we will create an elegant and romantic mixed media panel full of gorgeous texture and lovely elements using Prima marketing paints, pastes and embellishments. I will show you how to mix colors beautifully and create a neat flourish composition. After this class you will easily be able to: create cards and other projects, will be bold in making interesting and colorful backgrounds, and composition won`t be a challenge anymore. I will show you how to incorporate a photo to this project, so this panel will be a nice memory keeper as well. The size is13x30 cm (5 1/8" x 11 3/16") .
All Prima marketing embellishments, paints and pastes are included in the kit.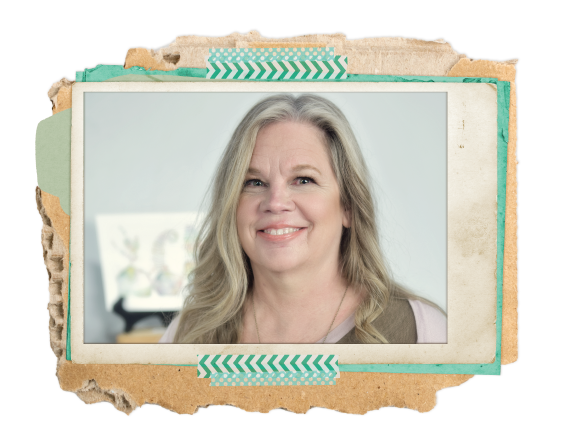 Danielle Donaldson
Danielle Donaldson is an artist, author and educator renowned for her use of complex color palettes and delicately drawn details. Her work incorporates an imaginative array of subjects, from playfully rendered forest creatures, nautical landscapes encapsulated in glass jars, and pillow-forts filled with kittens.
Her background in fine art paired with her skills as a graphic designer have provided her with an exceptional pairing of intuition and practicality, which shines through in her art, books and workshops. In addition to her best-selling instructional books, creativeGIRL: Mixed Media Techniques for an Artful Life and The Art of Creative Watercolor: Inspiration and Techniques for Imaginative Drawing and Painting, she teaches both online classes and in-person workshops including beginner to advanced artists from around the world. Using her trusty mechanical pencil and vast palette of watercolors, she weaves the values of creative practice, color experimentation, and fine art fundamentals with her signature small-scale illustration.
Nestled in her comfy studio in Southern California, Danielle continues to grow as an artist by fully embracing the creative process in all she does and with each story she tells.

Click Here To View Danelle's Facebook Live Video
Into The Ocean with Danielle Donaldson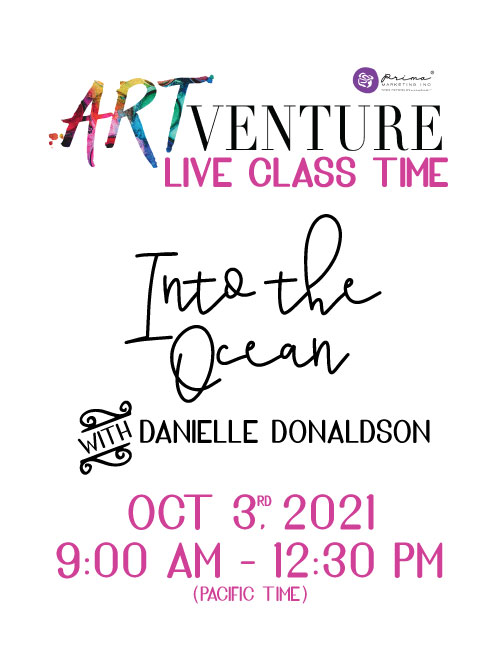 Learn to illustrate a detailed scene filled with dreamy watercolor whales, delicate patterns, tucked in the vast ocean blue. In this course, we will practice drawing a thoughtful composition, adding colorful washes, and zpattern-layering techniques with watercolors, pencil and ink.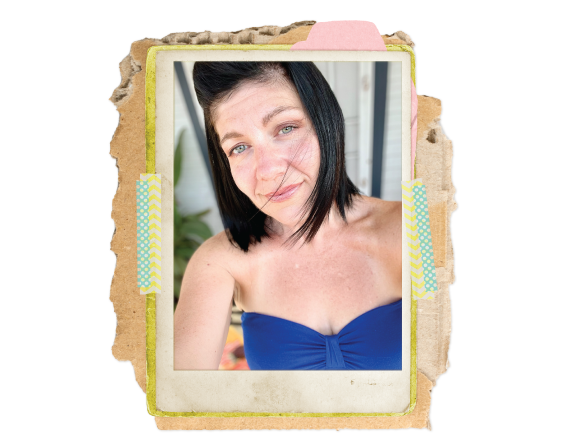 Jamie Dougherty
Jamie lives in Southern Ca with her two children. She has over 20 years of art experience. Her love of nature and plants are her greatest source of inspiration.
Into The Forest with Jamie Dougherty
Don't let time tick away with this retro mod wall hanging clock. Join Jamie in this eclectic art piece perfect for keeping you on your creative track. .