Prima's Art Venture By Gather, ENCORE

Who: Calling All Creatives! Mixed Media, DIY Furniture, Watercolor, Upcycling and more!
What: The online gathering you have been waiting for. Eleven amazing artists will be teaching LIVE classes for all levels.
Grab your creativity partner(s) and let's GATHER with like minded people the only way we can right now.
Where: Zoom to Facebook Live in a private Facebook Group (Subject to change)
When: Classes will be held Saturday and Sunday 9:00am -12:30pm & 2:00pm – 5:30pm (PST) (3.5 hours each)
Apr 10 & 11 | Apr 17 & 18 | Apr 24 & 25
Learn about each class
& Meet Our Fabulous Teachers!
Alisa Burke
[pbe_section global_module="1061″]
CeCe Hunt
CeCe Hunt
ReDesign with Prima® Brand Ambassador, CeCe Hunt, is the owner and sole furniture artist at 'CeCe ReStyled'. Her work is known for curvy detailed pieces embellished in all the things! She loves to create furniture art with unlikely color palette and pattern combinations. CeCe enjoys teaching via workshops in person and through recorded and live video tutorials. She is incredibly grateful that her path in adulthood brought her to living her dream.
[pbe_section global_module="994″]
Classic CeCe Techniques With CeCe Hunt
Lets' create a keepsake, or trinket box, using a variety of mediums!
We will be learning these products and techniques: basic paint blending, Decor Transfer application, 'ghosted' or tone-on-tone stenciling and metallic stripes.  All of the products and skills we will be practicing can also be transferred to your home decor, fine art, and/or furniture projects.
CeCe's Live Class Schedule: Sunday Apr 25, 2021
2:00 P.M. – 5:30 P.M. (PST)
Jaya Raghuvanshi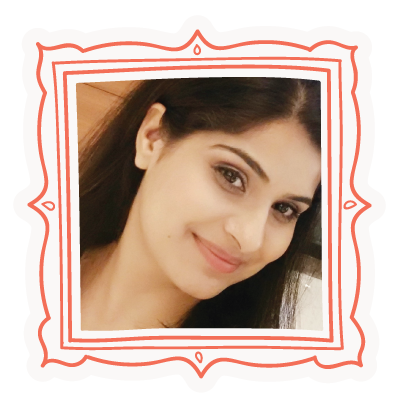 Jaya Raghuvanshi
Hi ! I am Jaya Rahuvanshi , a self-taught mixed media artist. I love playing with colors, textures and mediums and exploring new techniques and ideas!
My inspiration comes from the beauty in nature and my love for poetry. I have taken numerous in-person and online workshops where I have shared my knowledge with my students in an easy and comprehensible manner. I want people to discover their inner talent and that no matter what your skills are, mixed media is for everyone to enjoy!
[pbe_section global_module="1016″]
Broken Angel Mixed Media Canvas With Jaya Raghuvanshi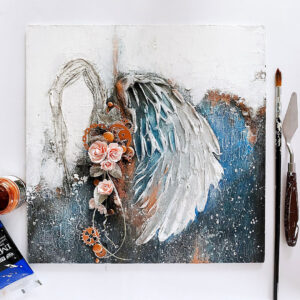 'She made broken look beautiful and strong look invincible .
She walked with the universe on her shoulders and made it look like a pair of wings.'
These words were my inspiration when I started off with my 'Broken Angel' mixed media canvas.. I knew what I wanted to express .. the girl that looks so strong but feels so weak, the girl that picks herself up every time she falls.
In this class I will show you how to get inspiration from around you. How to break a blank canvas and how to stretch your supplies to the maximum. We will learn all about creating amazing textures using basic and humble products. Nothing fancy! You will not only learn about color palettes and combinations but also the 'why' behind them. You learn about using basic mixed media tools to make amazing art. After learning the techniques I teach you in this class you will be confident enough to try them out yourself to create beautiful projects.
I believe that each color has an emotion , every texture tells a story and every stroke has a purpose. And that mixed media is all about exploring , making mistakes and learning from them.  I want you to experience all this and more through my class.
Jaya's Live Class Schedule: Sunday Apr 25, 2021
9:00 A.M. – 12:30 P.M. (PST)
Frank Garcia
Frank Garcia
Frank Garcia is a mixed media artist, scrapbooker & mini album lover. Frank has been in the scrapbooking industry for over 8 years. He is passionate about sharing his knowledge in scrapbooking, mixed media, altered art and journaling as well as artful mini album creations. Frank currently is a Senior Prima Educator and product designer for Prima Marketing Inc. He has designed multiple best-selling paper collections and designs under the Frank Garcia and Memory Hardware brands.
Recently, Frank released his first planner, featuring functional, modern and stylish touches for everyday goal, life and event planning. He enjoys educating students on different scrapbooking techniques and classes ranging from artful mini albums to mixed media projects.
Frank is well known for his dimensional projects that are "off the page" and innovative. Frank is also one of the instructors on Live With Prima and the editor of Prima Marketing's product catalog.
[pbe_section global_module="1013″]
Capri Suitcase Mini Album With Frank Garcia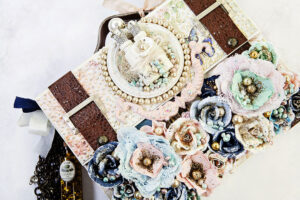 Create a stunning suitcase style album with Frank Garcia using the beautiful Capri Collection featuring gorgeous flowers, pockets and mixed media elements like the Memory Hardware Moulds, mediums and more.

Frank's Live Class Schedule: Saturday Apr 24, 2021
9:00 A.M. – 12:30 P.M. (PST)
Mark Montano
Mark Montano
Mark Montano has worked in the creative arena since 1985.  For 17 years he was a fashion designer in NYC with a collection that sold worldwide. When fashion wasn't fulfilling his creative needs, he transitioned to his secret passion, interior design, where he shared his tips and tricks for decor on shows like While You Were Out on TLC, She's Moving In on WE TV, My Celebrity Home on the STYLE Network and Make Your Mark on PBS. During his 10 years on television he published 11 best-selling craft books including, The Big Ass Book of Crafts 1 & 2: Simon and Schuster, The Big Ass Book of Home Decor: Stewart Tabori & Chang, and The Big Ass Book of Bling: Gallery Books. Currently he works as a creative director for several major craft companies working on everything from product development to content creation. You can find his new, weekly diy videos on his social media pages. He loves hearing from you and always writes back!
[pbe_section global_module="1022″]
Boho Victorian Floral Mirror With Mark Montano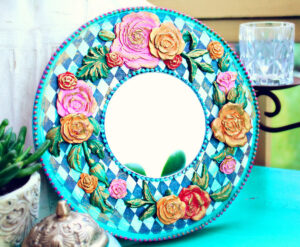 Mark Montano shares his favorite furniture makeover techniques and shows you how easy they are to replicate in a step by step, faux antique, hand-carved, boho/Victorian floral mirror diy. Gorgeous, rich paint creates a sumptuous base in which to decoupage printed translucent tissue paper or harlequin print, finally building 3 dimensional layers with molded flowers and leaves using the luxurious RE-DESIGN WITH PRIMA silicone moulds and hot glue to make your pieces look like they've been hand-carved in wood. Use his techniques on everything from cabinets and frames to dressers and side tables!
Mark's Replay Chat Schedule: Sunday Apr 11, 2021
2:00 P.M. – 5:30 P.M. (PST)
Chelsea Evans
Chelsea Evans
Chelsea Evans is the owner and Furniture Artist on Apple Blossom Way. Mom of 3 crazy boys, 2 Goldendoodles, and wife to an amazingly supportive hubby. She's just a girl that loves finding junk, turning it into treasure, creating amazing transformations, and teaching others to do the same. Creator of the Apple Blossom Stone Finish, Chelsea teaches online to students from all over the world a variety of classes from painting basics to specialty faux finishes. Her hope is to inspire others to paint, to create, to dream big and go for it!
[pbe_section global_module="1005″]
The Painted Purse With Chelsea Evans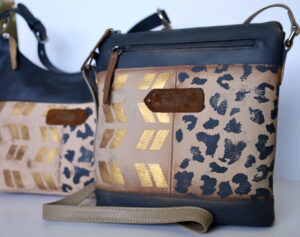 In this class we'll be designing your own custom leather purse using Wise Owl paints and stick & style stencils from ReDesign with Prima. Learn how to paint leather, add shading, use stencils, and distress your design for a custom look. We'll take these purses from regular leather to a suede custom look & feel.
Chelsea's Live Class Schedule: Sunday Apr 18, 2021
2:00 P.M. – 5:30 P.M. (PST)
Anna Dabrowska AKA Finnabair
[pbe_section global_module="1142″]
[pbe_section global_module="1133″]
Danita Art
Danita Art
Idania Salcido, the artist behind Danita Art, is a daydreamer, a beauty seeker, an old soul and a coffee lover. Self taught, she became a multidisciplinary watercolorist, painter, doll maker and ceramist who uses the techniques she learned through her career to materialize her ideas. She is inspired by nature, fairy tales, antiques, folk art, folklore, books, women, magic, the seasons, the grand theater and marionettes. Using art as an alternative from reality, she creates the inhabitants of a world that exists in her imagination
[pbe_section global_module="1010″]
Dreamy Watercolor Portraits With Danita Art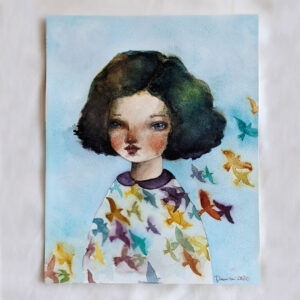 Learn to apply both wet on wet and dry on wet watercolor techniques to create a unique portrait.  We will play with watercolors and learn some tricks along the process to transfer your image to the paper and add details to your painting.

Danita's Live Class Schedule: Saturday Apr 17, 2021
2:00 P.M. – 5:30 P.M. (PST)
Jen Cushman
Jen Cushman
Jen Cushman is a natural storyteller who's drawn to the imperfect, the quirky, the artsy and the authentic. She's been creating mixed-media art for 20 years and has authored two jewelry-making books, filmed six instructional DVDs with F+W Media, has appeared as a guest artist on DIY and morning television shows and her work has been widely published in national art and jewelry magazines. In 2019 when the Covid19 pandemic hit, she followed her heart and created a brand new business called Soul Stir Magic, where she's an energy healer, intuitive guide and facilitator to help women listen to and take action on their deepest desires and soul whispers. Jen's passion is helping other creatives explore their inner knowing which, in turn, empowers them to live a juicy life with intention and authenticity.
Learn more at jencushman.com and soulstirmagic.com
[pbe_section global_module="1019″]
Mechanicals –FUNky Junque necklaces With Jen Cushman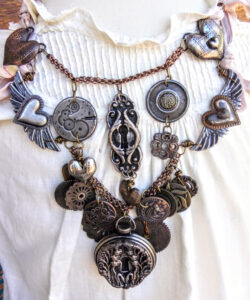 Look like you're leisurely strolling about Paris flea markets in search of cool found objects for your mixed-media jewelry projects BUT, in reality, you know you're staying home during the pandemic and making some really FUN wearable art that looks like it could have come from the trendiest of Les Puces Marche! In this workshop we will turn Finnabair's Mechanicals into cool metal charms to create lovely layered necklaces. The generous kit will allow you to create not one, but two necklaces in junque drawer style.
We'll also be using the Frank Garcia's Luxembourg hardware along with Prima Modeling Material to make beautiful vintage hardware castings from lightweight air dry clay. These statement necklaces look like they weigh a ton, but they're really light and easy to wear thanks to the art material. Instruction includes how to paint and faux finish the castings to mimic real metal hardware. We will talk about how to properly design statement jewelry and how to do the jump ring attachments properly so the necklaces lay well and fit comfortably.  Basic wireworking will be taught as well. 
Note: Some prep work to the charms is necessary before class day in order to show up prepared and ready to create. This mostly includes punching holes into the metal charms beforehand, but more easy and detailed instructions on how to do this will be emailed to students before class.
Jen's Live Class Schedule: Sunday Apr 18, 2021
9:00 A.M. – 12:30 P.M. (PST)
Melody Ross
Melody Ross
Melody Ross is a lifelong writer and artist with a prolific career spanning nearly 3 decades in the art and design industry. Author of more than 20 books, she has also developed countless product lines under her own label as well as licensing her art across the world. In 2009, as the founder of Brave Girls Club, Melody started creating courses and materials to utilize art and creativity for soul work. Since that time, she has created more than 50 courses and a large variety of beautiful life tools to help humans figure things out for themselves, believing that no one can truly know what we each want out of life better than ourselves – and that once a person knows what they truly want, they can go out and create it. 
Melody is a mother of 5 adult children, 3 bonus kids and 5 grandchildren. She is currently on a multi-year epic journey, traveling the country with her husband of 30 years in their RV, seeing beautiful places and helping as many people as they can along the way.
[pbe_section global_module="979″]
Create Your Life Apron With Melody Ross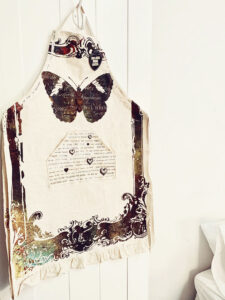 Let's create a meaningful and beautiful piece of wearable art that you'll use for years to come!
Who says art has to hang on the wall? And who says our deepest thoughts have to stay in our journals? Join Melody for a fun and meaningful workshop, where we dig into our souls and create an affirmation apron to wear during any creative endeavors throughout life.
We will use transfers, phrases, paint and beautiful trinkets to personalize and embellish a lovely canvas apron that will remind you of who you are and why you are here to create! 
Melody's Live Class Schedule: Saturday Apr 24, 2021
2:00 P.M. – 5:30 P.M. (PST)
Katja MezzaNotte
Katja MezzaNotte
Hello! I am Katja from Sweden. I am a mixed media artist and I enjoy working with several different designs from clean and simple to steampunk style that incorporates many different layers. I love the freedom to do what I enjoy. To start with a blank canvas or page and fully explore my creative process. I hope that I can be an inspiration to others to find their creative side while learning to appreciate the process, not getting discouraged, and exploring their dreams of artistic expression by having their own voice within their designs.
Album Cover Asian Inspired Tiles With Katja MezzaNotte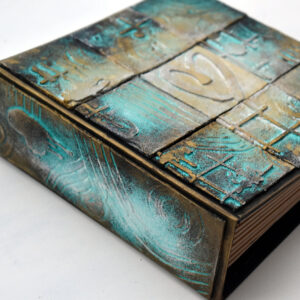 Discover artistic freedom and new possibilities in your creativity as you add your own personalized texture on "tiles" to alter an album cover. Using chipboard, paints, and metallic wax for added shine, you will give your album a Far East feel with your own unique pattern. Learn the creative possibilities of modeling paste and lots of techniques for many applications. Together we will find the unexpected possibilities of your creative process.
Katja's Live Class Schedule: Saturday Apr 17, 2021
9:00 A.M. – 12:30 P.M. (PST)
Register for Classes Now!
No Results Found
The page you requested could not be found. Try refining your search, or use the navigation above to locate the post.